HISTORY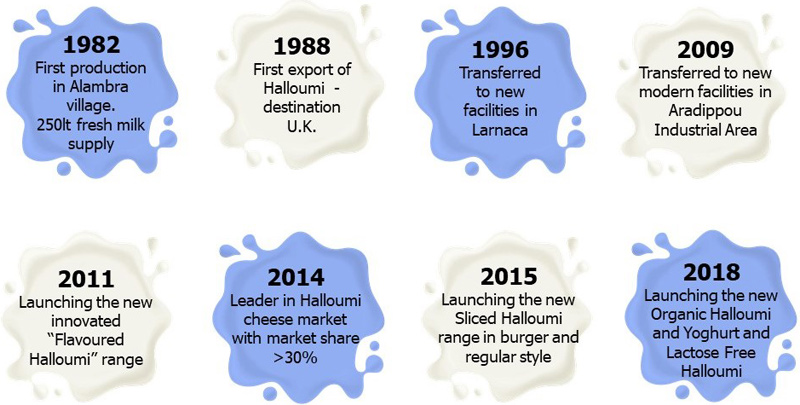 ABOUT US
MISSION
PETROU BROS DAIRY PRODUCTS, by making the best out of its experience and knowledge, can feel the pulse and needs of the market and innovate in products that combine ingenuity and quality, with the goal to cover the ever demanding culinary needs of the modern consumer.
SAFETY AND HYGIENE
Our company is using the newest methods in the dairy industry in combination with our knowledge, tradition and experience. We are equipped with the last and most evolved equipment and machinery in Cyprus and with respect towards the environment we assure and guarantee the quality of all our products. We also abide by all the production procedures of FSSC 22000, IFS and BRC with Higher Level score.
PRODUCTS ''ALAMBRA'' & ''THE GRANNY''
ALAMBRA has a big range of dairy products, like Halloumi cheese, Halloumi Light, Fresh and Dry Anari Cheese, Grated Cheese, Butter Ghee, Airani, Feta Cheese and many types of yoghurts.
Also Petrou Bros produce a range of products with a brand name "The Granny" with a big success in Cyprus and world market. "The Granny" products are Halloumi Cheese from 100% sheep and goat milk, Traditional Pure Yoghurt from 100% Sheep milk, Trahanas soup and Traditional Airani Drink from Sheep milk.
Furthermore in 2004, the company has started with great success importing cheeses from all over the world like Edam, Gouda, Mozarella, Kefalotyri, Feta, Parmesan, Milk and many other products.
During 2009, Petrou Bros has been the exclusive agent of OLYMPOS products in Cyprus providing a big dairy range in local market.
The product portfolio of PETROU BROS exceed 250 items.