COMPANY'S HISTORY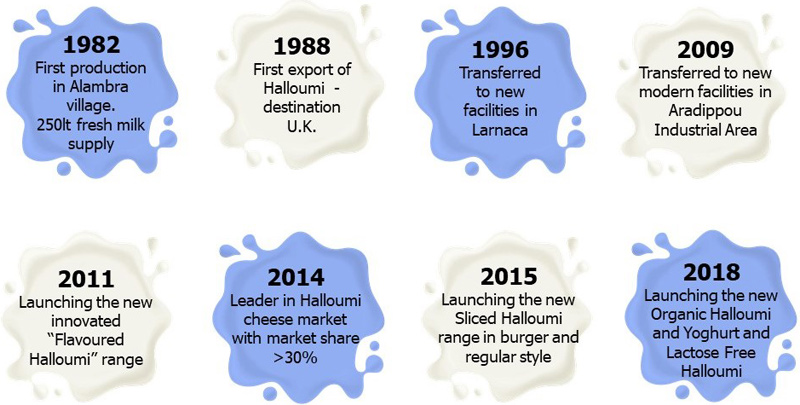 ABOUT US
MISSION
Based on the long experience and expertise, Petrou Bros Dairy Products company is aligned with the market needs, by pioneering in products which combine quality and innovation. The aim is to satisfy the continuously demanding nutrition needs of today's consumers by incorporating the history and tradition of the island within its range of products. 
SAFETY AND HYGIENE
Our company implements all updated methods of cheesemaking, by combining knowledge together with tradition and long-term expertise. It works with the best technologically developed equipment in Cyprus, which by respecting the environment it safeguards and guarantees the quality of the manufactured products. The company implements a certified system of food safety management in all production methods based on the international standard ISO 22000 as well as on the private standards BRC (Grade A) and IFS (Higher Level).
ALAMBRA AND "the granny" PRODUCTS
The products are made of 100% fresh cow's, sheep's and goat's milk which is supplied by the company from all different areas of the non-occupied Cyprus.
It has a wide range of products, such as Plain and Light Halloumi, Halloumi with chilli and basil, Fresh and Dry Anari, Yogurt of different types, Grated Halloumi (plain or with chilly and basil) and various other types of exclusively imported cheese such as Greek Feta, Kefalotiri, Edam, Gouda etc.
At the same time, the company produces a range of traditional products –under the name «the granny»- which have received great success both in the local and the international market. The traditional products «the granny» consist of Sheep's and Goat's Milk Halloumi, the Traditional Authentic Sheep's Milk Yogurt, the Traditional Dry Anari, the Sheep's Milk «Airani» as well as the famous «Trahana soup».